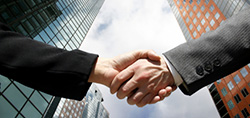 DPG has enlisted the aid of many independent sales reps, all with more than 15 years experience calling on particular accounts close to their homes. Our reps are in their accounts on a weekly basis. There is not a question as to whether your product will get into the correct buyer's hands. Rather it is a question as to how soon you give us an opportunityto work with your product.
Here is a sample of our sales rep organization:
DPG Sales Representative
Sales Representative has been representing manufacturers of consumer electronics, automotive, tools and lawn & garden products in the Mid-West since 1995. Sales Representative was VP of Sales for Warren Distribution for many years and led their expansion from $5 million to over $100 million. He and his partner, each have over 30 years of experience in the aftermarket with responsibilities including sales and marketing, buying, advertising, organization and management. They have developed close relationships with their customers and work closely with their vendors to open new accounts and develop profitable business. Understanding how important it is to make the original sale, but also to assist the retailer with pull through programs to sell the products off the shelf.
They focus on a broad range of customers which include mass retail, automotive, hardware, sporting goods and farm & home stores. Some of their primary customers are Wal-Mart, Duckwall-Alco, Rural King, O'Reilly Auto, Cabela's, Westlake Hardware, Pamida, Orscheln and Factory Direct Appliance.
DPG Sales Representiative
The vast array of services that SI provides for its clients is virtually unlimited. We use our well-established, long-term and successful buyer relationship and proven sales track record with QVC to navigate you and your product through the system, bypassing all the barriers of the uninitiated.
Phase 1 – What we do to get the sale
Review your product line to identify best products for QVC
Help navigate the price negotiations to help QVC get the value they need while helping to ensure your profitability
Coordinate with your team on QVC's Quality Assurance, Packaging and Transportation Guidelines
Phase 2 – On-Air Support
Develop sales strategy including
Sales blueprint with key selling points and product claims
On-Air Guest selection and training
Develop on-air demonstrations and support video
Strategize with QVC Coordinating Producer and Show Host
No aspect of the path to QVC is unknown to SI, no details are missed. All you need to do is bring your product to us, and together we will Make It Special!
DPG Sales Representative
He represents electronic product manufacturers with a commitment to professional, efficient and effective customer support. He has experience negotiating annual pricing, payment terms, co-op dollars, catalog funds, freight and returns programs for an assortment mix of over four thousand accessory sku's and sixty-eight product lines, reflecting over $50 million in wholesale volume. He has created daily and monthly advertising programs generating $200,000 (MDF) above the standard program dollars for specific dedicated flyers and increased sales volume by 18% and gross margin dollars by 24% within the past year, while achieving a 4% all time low stock-out record. As a buyer and sales manager for Boscov's Department Stores, Wall to Wall Sound and Video and Capitol Records, Al has managed sales and distribution of products from $5 million to over $20 million annually in audio and video accessories, home and portable audio, telephones, DVD movies and music.
DPG Sales Representiative
Whatever the retailer, whatever the product, our Super Broker Network ensures that your brand has the very best representation and promotion. With multi billion dollar anunal sales Teams in Seattle, Dallas, and Bentonville manage brands at Costco, Amazon, 7-Eleven, Walmart and Sam's Club. This network of resources means you get the best team on the ground at the nation's top Mass, Club, and C-Stores.
Our sterling sales network is augmented by exceptional partners at each of the other top retailers in the US. The Los Angeles office serves as both your brand ambassador and sales strategy center — ensuring timely execution, seamless marketing, and speed-to-market.
Retail partners include:
Walmart, Sam's Club, Costco, 7-Eleven, Target, Amazon, SuperValu, Safeway, BJ's, HEB, Kroger, Walgreens, CVS, Rite Aid, GNC, Vitamin Shoppe, and Sprouts Food.
DPG Sales Representiative
EMW, is unique brand marketing company offering clients innovative sales/distribution platforms. Our business model consists of emphasizing on brand development, sales/marketing and e-commerce/big box retail distribution programs for clients directly to consumers on a global basis.Through EMW's relationships, it allows EMW to capitalize & deliver on all forms of social media and monetize additional merchandising opportunities.EMW brings over 30 years of experience executing sales programs, distribution, live event production, media rights sales/negotiations, marketing/promotions, brand packaging/management to our endeavors.
We are a Preferred vendor for the the US Military AAFES-Exchange (Army/USAF) & Nexcom (Navy/Marines) e-Commerce and retail stores worldwide.
Hospitality business worldwide; Four Seasons Hotels and Resorts, Carnival Cruise Lines, Starwood Hotel and Resorts/Marriott International, Hyatt Hotel Group, MGM Resorts International, Hilton, Sage Hospitality Group, SBE Group/Morgan Group, Atlantis Resort Casino-Bahamas.
DPG Sales Representiative
We are a leading manufacture representative organization utilizing 16 direct sales professional located in key cities that cover Missouri, Iowa, Nebraska, Kansas, Oklahoma, Arkansas, Louisiana and Texas. Our customer relationships are the foundation for our success. Our customer focus is on pull through sales, product training, localized marketing, product solution updates and direct installer contact while collaborating with our suppliers to help them meet their sales growth initiatives. At HF we foster a culture of team work by taking an aggressive approach to sales and reinforcing the customer / supplier relationship. We are proud to say we are one of the premier sales agencies in the automotive aftermarket.
Company supports all levels / channels of distribution from manufacturer to vehicle owner.
OES and Dealer Channel: Vehicle Manufacturers, Dealer Service Groups & Internet.
Retail Channel: Service Chain Stores, Mass Merchandisers and Retail Parts Stores.
Traditional Channel: Parts Manufactures, Remanufacturer / Rebuilders, Warehouse Distributor, Program Group Distribution, Jobbers, Auto Service Centers, Service Stations, General Repair Shops and Vehicle Dealers. Three step and two step distributors
Specialty Channel: Military (AAFES), Engine Parts, Food & Drug, Hardware & Industrial.
Our Company has been in business since 1932 and currently celebrating our 80th year in business. How may we assist you in this market?
DPG Sales Representative
Their Company was formed in 1993, began operating wireless retail stores in under the flag of Bell South Mobility and Pagenet Paging. The company progressed through years of transformation in the wireless industry partnering with Cingular Wireless then finally with AT&T Wireless until selling its' retail stores in 2010. Because of its in-depth knowledge of the wireless industry as well as its wireless accessory sales success for nearly twenty years Cell Wave focused its efforts on high quality accessory products that would drive revenue to wireless retailers.
Sales Representative sold his first cellular phone in late 1991 to the Indiana National Guard. That phone was the size of a suitcase! Since then he has been involved in the wireless industry for over two decades winning multiple accolades and awards in the Great Lakes Region and was the first Bell South agent in the area to start bundling wireless accessories with wireless phones to drive revenue while providing value for the customer.
DPG Sales Representative
Their Company was formed in 1993, began operating wireless retail stores in under the flag of Bell South Mobility and Pagenet Paging. The company progressed through years of transformation in the wireless industry partnering with Cingular Wireless then finally with AT&T Wireless until selling its' retail stores in 2010. Because of its in-depth knowledge of the wireless industry as well as its wireless accessory sales success for nearly twenty years Cell Wave focused its efforts on high quality accessory products that would drive revenue to wireless retailers.
Sales Representative sold his first cellular phone in late 1991 to the Indiana National Guard. That phone was the size of a suitcase! Since then he has been involved in the wireless industry for over two decades winning multiple accolades and awards in the Great Lakes Region and was the first Bell South agent in the area to start bundling wireless accessories with wireless phones to drive revenue while providing value for the customer.
DPG Sales Representative
Company is a national manufacturers rep firm. Sales representiative has been in the consumer electronics industry for 29 years. His last position before starting his rep firm was at Ingram Micro Consumer Electronics/DBL Distributing as Vice President of National Accounts. He has previously held several senior management positions as Director of Sales at Impact Merchandising Corporation and was a Vice President of Sales/Partner at WMD Marketing. Sales representiative and We bring a wealth of experience and knowledge to DPG Distribution.
DPG Sales Representiative
Company is a national manufacturers rep firm. Sales representiative has been in the consumer electronics industry just shy of 30 years. His last position before starting CPC was at DBL/Ingram Micro CE as a Senior Buyer. He has previously held several senior buyer positions and National Sales Manager positions at consumer electronic entities such as Recoton and Go•Video. In additional to senior positions, he has held positions as a buyer, manufacturers rep, corporate buyer and store manager. Lee and his team bring a wealth of experience and knowledge to DPG Distribution.
DPG Sales Representiative
Company is a Texas based company engaged in the business of professional sales and marketing representation of unique and innovative consumer electronics, house wares and hardware products to distributors, mass retailers, superstores, grocery stores and convenience stores in the United States, Canada and Mexico. Sales representiative has worked in the computer and consumer electronics industry for over thirty years and has been involved in sales, sales management and marketing for companies such as Percom Data Corporation and Micro D before starting M & D Micro Systems (now Creative Concepts) in 1987. Since that time, the company has been instrumental in pioneering product lines as SIIG, Inc., Advanced Gravis, Umax and CMS Enhancements and now also represents Powermax Batteries, 360 Electrical, Michley Electronics, Sumdex, Falcon Safety to name a few. Major customers include JC Penney, JC Penney.com, Sam's Club, WalMart, Walmart.com, Dillards, Neiman Marcus and 7 Eleven.
DPG Sales Representiative
Company was founded by sales representiative who has been serving the Consumer Electronic industry starting in 1998. Prior to that, he has held positions within the consumer electronic industry as a Product Specialist, Trainer, District Sales Manager, Regional Sales Manager as well as a Director of Sales. Custom Consulting is a premier manufacturer's representative firm, responsible for the New York Metro & Mid-Atlantic regions. The firm maintains its edge in the industry offering a focused line card, which continually represents high-end custom installation components with innovative aesthetic design and unparalleled performance. He and his associates at Custom Consulting are aligned with leading industry experts to serve the Home Theater Specialty A/V Retailer, Home Custom Installer, residential Systems Integration, and Interior Design markets.
DPG Sales Representiative
Sales representiative started Company in 2006. It is Chicago based national marketing, product development and sales company with industry focus on consumer electronics, house wares, and new technologies. In addition, they focuses on providing solutions to large suppliers on how to navigate successfully in selling their products to online retailers. Prior to starting company, sales representiative served as the Vice President Sales & Marketing at Sima Products Corp. and in this capacity managed Sima's complete marketing and sales efforts of both Sima's traditional product lines, as well as the new business/markets resulting from the acquisition of Wireless Marketing Corporation. Doug was instrumental in launching one of the most successful products in Sima's history, the GoDVD! video editor.
Sales representiative has previously founded two startups, one of which was I-Jam Multimedia, LLC, a true pioneer in the MP3 music hardware and content industry. Sales representiative created strategic partnerships with Microsoft and Iomega, as well as secured music/artist license agreements to bring digital music to the early adopters. Sales representiative also started Wireless Marketing which launched a new wave of miniature and small sized two way radios through the introduction of the Cherokee brand of radios. Sales representiative sourced these items from suppliers in Asia, spending a strong part of his efforts in created long term strategic partnerships with these companies. Wireless Marketing Corp sold to Sima Products in 2002.
For many years sales representiative worked at Cobra Electronics Corporation, where he worked his way up to becoming its VP of Sales & Marketing from 1992 – 1995. He holds a B.S. Degree and M.B.A from Michigan State University.
DPG Sales Representiative
Company has been representing premium manufacturers to their customers in the Rocky Mountains since 1993. Specializing in automotive, electronics, RV and sporting goods products, EMA has sold to regional and national accounts such as Cabela's, Sportsman's Warehouse, Sierra Trading Post, Ultimate Electronics and into the farm and ranch retailers as well as regional distributors and retailers located in the Mountain States.
Sales representiative began his career in 1976 and has held positions with several leading manufacturing companies as their Director of Sales, National Sales Manager, VP of Sales and Marketing and eventually President and CEO of his own Manufacturing Company that did business with companies such as General Motors, JC Penny, Pep Boys and Advance Auto Parts.
Company has the reputation for honesty and hard work and is recognized as the premier Sales Agency working the Rocky Mountain States.
DPG Sales Representiative
Company was established to help manufacturers reach or exceed both short and long-term sales, marketing and profit objectives. Sales representiative and company's founder, believes in prioritizing the establishment and promotion of manufacturer's brands through the use of innovative cohesive marketing and sales solutions. His numerous strategic U.S. and international industry relationships have proved to be a valuable asset towards achieving manufacturer goals.
Sales representiative is a well known highly respected sales and marketing top tier executive with over three decades of noteworthy successes in the consumer electronics business. As a group sales and marketing manager for Panasonic West, he received numerous awards for his contributions towards increasing sales over 300% and elevating Technics to the number one audio brand in the United States. After joining Sanyo's executive team in 1989 as VP of marketing, he revolutionized the brand's product portfolio, optimized supply chain management, expanded their distribution base and achieved a 270% increase in sales over three years. Thereafter, Sanyo's top executives selected Isaac to launch their new Wireless Communications Division in 1997. As Group Vice President, he was charged with building the foundation for what would come to be known as one of the most prestigious productive divisions in the company's forty year history. Within two years, sales from the newly created division exceeded $1.0 Billion. Over the next decade, he capitalized on the opportunity to join the management team of Siemens (Germany's $100 billion conglomerate) as the top executive of their U.S. Cordless Communications business. In January 2009, at the request of Sanyo's executive management in Japan, he rejoined Sanyo as the President of the Sanyo Fisher Company and Sanyo North America, Consumer Solutions.
DPG Sales Representiative
Company has managed their firm's national accounts throughout the US and Mexico in the mass, automotive, sporting goods and hardware markets for seven years. Their experience includes managing accounts in this market, as well as for a private label in the marine and RV industry, across the US, Canada and Mexico. The members have worked with auto detailing equipment as a national sales manager, responsible for accounts such as Wal-Mart, Costco, Napa Auto Parts, Target and more. Their experience includes conceiving of and effectively implementing strategies used in the launch of an industrial product division, while being integrally involved with packaging, point of purchase displays and the concept, design and layout of consumer catalogs.
DPG Sales Representiative
Company represents our manufacturers in metropolitan New York and northern New Jersey in all phases of the aftermarket. They service chain stores, warehouse distributors, feeders, wagon jobber feeders, expediters, mail order houses, supermarkets, drug chains, mass merchandisers. They maintain offices and a showroom in Elmont, NY. Company's reputation for hard work and getting results for their manufacturers is unprecedented. Over the years they have taken many lines from inception to a prominent place in the market.
DPG Sales Representiative
Sales representiative established the company in 2010. Company is an Illinois based company that focuses on the sales and marketing of consumer electronics, housewares, consumer products, seasonal, and specialty products to distributors, mass retailers, specialty, and other market specific channels in Northern Illinois and Wisconsin.
Sales representiative has over 30 years of experience in the consumer electronics and consumer products industries at the local and national levels. He has held senior management positions with multi-national companies including, Panasonic, Sanyo, Casio, Rayovac, and Powermax. He has called on nearly every major national and regional retailer and distributor in North America developing a unique understanding of their businesses and forming relationships with many of them that reach up into the senior management levels of their organizations. The ability of company to understand the unique needs of their factories is due to the experiences gained over the years in their positions.
DPG Sales Representiative
Company is a manufacturer's representative organization that sells a variety of electronics, computer and furniture products to electronic superstores, computer and office retailers, buying groups, catalog houses and distributors in Ohio, Indiana, Kentucky and Michigan. Sales representiative built the business from a start-up organization with zero in sales to over $3.5 million annually, while establishing accounts with various organizations including K-Mart, H.H. Gregg, Meijer, Galyans, Frontgate, Value City, Rex Stores, Office Max, ABC Warehouse and Big Lots. Previously, Sales representiative worked as a regional account manager with The Navman USA, Inc. (a division of Brunswick Corporation), where he was responsible for the sales of GPS products to retail customers including Best Buy, Circuit City and other computer and office retailers, distributors and catalog houses. In his region, he increased sales from $1 million to over $8 million annually, hired manufacturer's representative groups, added new distributors and developed several new accounts. Sales representiative has also worked in sales and account management for Current Sales/Chris-Tec Marketing, Sanyo/Fisher USA Corporation, The Quasar Company and the Eureka Company. In each role, sales representiative was instrumental in significantly growing high volume accounts and revenue, while winning numerous sales awards and ranking among the top sales members in his organizations.
DPG Sales Representiative
Sales representiative is a highly regarded and accomplished sales and marketing executive with over thirty years of experience gained through senior level roles he held with Fortune 1000 companies and early stage firms engaged in the computer, enterprise software and consumer electronics markets. He has to his credit a track record of outstanding performance leadership generated through strategic planning, defined business process and controls, a nurturing yet highly accountable approach to organizational management, consultative/strategic selling, and a 'customer first mindset'. Sales representiative founded company four years ago to provide technology OEM's with sales channel development, management and marketing services following Vice President and Director level roles held at Apple Computer, Thales Navigation, Cognet Corporation, Dictaphone, TDK Electronics and Fuji Photo. Mark served as an outside Executive Director for Peregrine Systems up until the firm was acquired by Hewlett Packard.
DPG Sales Representiative
Sales representiative has over twenty-five years experience calling on retailers and distributors in the computer and consumer electronic industries. As an independent manufacturer's rep, he is responsible for placing product and developing promotions for the vendors he represents. Sales representiative has also co-developed product, designed packaging and facilitated reseller programs. Aside from being a manufacturer's rep, he is a writer having written and distributed newsletters, sell sheets, PowerPoint presentations and public relations press releases. Michael has also participated on many vendor and reseller advisory boards along with winning many sales achievement awards.
DPG Sales Representiative
Company is a manufacturer's sales agency selling extensively to the Recreational Vehicle Manufacturers and Warehouse Distributors across the United States and Canada. Other markets include Regional Retailers, Marine Manufacturers and Distributors, Sporting Goods and Automotive Warehouse Distributors, Utility and Horse Trailer Manufacturers, as well as Federal, State, County, and Municipal Government Agencies. Founded in 1979, sales representiativehas been operating company the past 25 years, expanding growth both regionally as well as internationally. With a focus on higher-end, non-commodity electronics, lighting, entertainment, safety, hardware and appliance products, company does business with the biggest names in the industry; Winnebago, Holiday Rambler, Monaco Coach, Fleetwood Manufacturing, Bayliner, Weekend Warrior, Bi-Mart Corporation; and the list goes on. Company specializes in bringing cutting-edge products and concepts to market, helping customers differentiate their products and offerings from competitors with unique styles and designs. Marketing, product development, design, trouble-shooting, and looking outside of that proverbial "box", company partners daily with customers and factories in assisting product evolution and market-share growth for all parties.
DPG Sales Representiative
Company has been marketing and selling into the NYC metro area for over 30 years. It has a multi-decade relationship with several high profile accounts, such as Crazy Eddie, the Wiz, 47st Photo and J&R. In the last decade it has continued to form relationships with additional retailers such as B&H, 6th Avenue, Electronics Expo and Beach Camera. Company prides itself on providing an orderly marketplace for its vendors, and close personal relationships with the accounts it calls on. These core operating principles have made it the premier rep firm for the NYC consumer electronic stores.
DPG Sales Representiative
Company is a manufacturer's representative company with consumer electronics, home health care, furniture, food and drug, sports and hardware accounts in Michigan. Service and honesty are the company trademarks that insure dealer and distributor confidence. Close contact with the customer guarantees that vendor programs, promotions, and/or advertising campaigns can be maximized. Current representation includes Antennas Direct, Bell'O International, Brands Unlimited, Cable Wait, Indy Audio Labs, Mobi Technologies, OEM Systems, Powercam, Touchstone Home Products, Truly USA and Wagan. Customers of the company include ABC Warehouse, Altron Int., Almas Hi Fi and Frank W. Kerr. He began his sales career with Jay F. Schude Associates, Inc. As a manufacturer's representative, sales representiative won several awards representing JVC, Marantz, Teac, Sanyo, and many others. After ten years as a representative, he moved on to the Sanyo Fisher Corporation, servicing several of the Midwest's top retailers: Highland Appliance, Kmart, Rex Stores, May Company and ABC Warehouse. As a Regional Manager, he built successful sales teams at two consumer electronics companies and two music/video companies servicing Best Buy, Target, Handleman, Rite Aid, Jo-Ann Stores, Factory Card and Party Outlets, among many others.
DPG Sales Representative
Company was founded to provide expert service to Service members and the military exchange system worldwide. Founder knows both. He was raised in an Air Force family, served in the Army, and spent 23 years as a buyer for the Army and Air Force Exchange service. He retired from AAFES as a Senior Buyer with over $300 million a year in sales.
He knows how to guide suppliers through the exchange system process, and knows what military exchange buyers require. He spent time in Bosnia, Panama, Iraq, Kuwait, Europe and the Pacific interviewing troops. His ultimate goal is to provide service members the merchandise they need and want. Few founders have traveled to war zones to make sales calls.
He also worked for Marantz, and Bose Corp, and as a military rep for Atari, Head Ski, Tyrolia ski bindings, and Nordica boots.
DPG Sales Representative
Company has spent the past 14 years increasing sales for both their vendor and retail partners. Located west of the twin cities of Minneapolis and St. Paul they have built their reputation with retailers in the Midwest such as; Target, Best Buy, Menards and many more. Although company represents many vendors they also take great pride in pioneering many new products across several retail channels including national accounts, such as; Sam's Club, Wal-Mart, Sears and many more. Company built a very strong reputation in the Hardware industry and that base enabled them to add key team members that expanded their reach into a variety of categories that include hardware, furniture and consumer electronics. President has spent 25 years selling consumer products to all retailers across North America working in corporate America with Generac Corporation and Coleman Companies. After Coleman Powermate was sold to the Sunbeam group, he was instrumental in teaming with the Faip manufacturing company to private label a full line of electric pressure washers under the Powerwasher brand and the Husky private label brand for The Home Depot.
DPG Sales Representiative
With offices in 7 states across the United States, company is built on experience, professionalism and loyalty to manufacturers. Sales representiative who heads up the company, is an early pioneer in the Consumer Electronics & Computer Goods Industry, having started in 1977. His team brings hundreds of year of experience to our clients.
Over the years, the company has developed unparalleled contacts with virtually all of the significant consumer electronic stores, from Buyers to Senior Management. They also have significant contacts within the hardware and grocery chains. They take pride in their abilities to not only place the products in stores, but to develop affordable marketing programs within their accounts that result in the product success with long term sales.
DPG Sales Representiative
Company is a seasoned and aggressive sales agency covering the Pacific Northwest, including Alaska. They are dedicated to providing customers and vendors with honest and professional representation geared toward continuing dynamic growth for the years ahead. They represent the Consumer Electronics, Hardware, and Sporting Goods channels, among other categories. President and his Seattle-based staff cover Washington and Alaska customers, including Amazon, Jensen Distribution and others. Portland-based Vice President and his staff handle Oregon, with such customers as Kroger, Fred Meyer and Bi-Mart. Team Marketing has an excellent rapport and long-term relationship with all Northwest accounts.
Since company's inception in 1983, they have been driven by a single, overriding philosophy: To provide, simply, the best service in the industry. With many years of experience in this industry, they bring knowledge, competence, and vision to their clients. Their team strength provides assurance that all product lines receive the broadest possible exposure…the best market penetration…and the greatest chance for sustained market domination. Because they understand the individual needs of each of their customers and vendors, they gear their efforts directly to those requirements. Each product line is marketed in a manner designed to take advantage of its unique attributes. This custom approach assures the best chance for success for everybody involved.
DPG Sales Representiative
Company has over ten years experience with Wal*Mart Stores Inc. and its various domestic and international subsidiaries. From a beginning with his own oral care products, company represents clients successfully in many categories. With reps located in Toronto, Florida, and of course north Arkansas, company represents several large corporations and overseas factories to Wal*Mart, Sam's Club, and other retailers.
Company has specialized marketing knowledge in building brand awareness, category retention & development, incremental sales development, execution of WMT promotional programs and SKU introduction tactics, including sample access, price point negotiation and packaging consulting.
DPG Sales Representiative
Company is a new breed of manufacturers' representation for the consumer electronics channel. The strategy of staying narrow with brands and focused on customer service ensures loyalty to dealers and manufacturers alike. It's a simple concept, but a lot of rep companies fail to understand it.
Company was founded by sales representiative veteran with over 25 years of experience in the consumer electronics industry. He began his career as a product trainer and worked his way up to an executive-level position with Pioneer Electronics and Nuvision.
He understands what it takes to be successful as a specialty retailer, but more importantly, how to develop the relationship between the dealer and the manufacturer.
DPG Sales Representiative
Sales representiative has over 25 years experience with Costco and other electronics, hardware, automotive, and sporting goods retailers. Prior to the company he was a partner with Team Marketing growing Team to over $200 million with distribution in the hardware, automotive, and sporting goods channels. He supervised the company staff of 25 and managed the Costco account. He also pioneered the Amazon Automotive Store on Team Marketing's behalf selling over 20 product lines.
DPG Sales Representiative
Company specializes in the development of local, national, and ecommerce sales programs to launch products. Their core strengths are in marketing, packaging, competitive analysis, sales forecasting and pricing to ensure profitability and competitiveness. The work with our manufacturers hand in hand to ensure vendor requirements are understood and met.
An accomplished sales and marketing professional, sales representiative has effectively and productively managed local and national strategic sales campaigns for many businesses and products nationwide. As the VP of Marketing, he brings an immeasurable skill set that many desire. He has the ability to creatively imagine and execute well planned strategic campaigns to drive the most revenue for clients. He is associated with multiple industries and can take on multiple tasks at once, as well as execute them in a timely manner, all while maintaining a true passion and love for what he does on a day to day basis.
As a true born entrepreneur, partner has successfully owned and operated a vibrant business for over 16 years. Within that time he was also a general manager for a very large corporation which dealt with managing a highly successful and motivated sales and marketing team that consistently outperformed their initial quotas. He was able to increase their numbers of business acquisitions by large percentages on a quarterly basis along with personally engaging each individual employee to assist them to perform to their maximum potential.
DPG Sales Representiative
Company was founded in September of 1990. They are celebrating their 21st year as a leading innovator in the consumer and commercial electronics industry. Partners have many years of experience and knowledge in these markets. Since their inception, they have built a strong and dependable team of employees who are dedicated to their business partners. Promotion, education, and support are the cornerstones of their dedication to provide dealers with a solid return on their investment.
Their office and warehouse facility is located in North Vancouver, B.C. providing them with timely access to products from our vendors. Their national sales team of agents provides great opportunities for growth in all markets from coast to coast. Their facility includes an in-house service department, product demonstration system, and well organized warehouse including automated shipping systems.
DPG Sales Representiative
Sales representiative started VPS in 2005. He has nearly 40 years' experience as a key account rep in the electronics, small appliances and house wares industry. He has developed and grown key account relationships and business for regional, national and specialty accounts in the MI, OH and IN territory. Company now has extensive national coverage using industry veterans and aggressive and responsible sales representatives who cover multiple product channels as well as being able to present and service multiple retail channels. These accounts reps come with the necessary relationships (which in today's retail environment are essential) that can speed up the presentation process and positioning for placement.
DPG Sales Representiative
Sales representiative was formerly President of S & J Associates, Inc. S & J was a major Rep Group in the Mid-Atlantic area for such brand names, as Braun Appliance – Royal Vacs (Dirt Devil Brand) Spartus Clocks, Counselor Scales, Sakura – dinnerware, Homedics.
Sales representiative for the last 10 years has been selling products to QVC. QVC is the number 1 TV retailer in the country with sales in excess of $5,500,000,000. He currently sells to the Electronics, Housewares, Small Electronics, Hardware, Lawn & Garden, Household Chemicals, Gifts, Accessories, Sports Fitness, and Pet Products categories. He is committed to creating a team effort in the success of products introduced to QVC.
DPG Sales Representiative
Representative has worked in sales for the past 26 years and have experienced working with retail and wholesale distributors in many different categories such as lawn & garden, grocery, automotive parts, hardware, gift, and home goods. He has worked with customers in the 4 state area known as TOLA, the area around Texas, Oklahoma, Arkansas, and Louisiana. He has worked directly with the buyers of major retailers as well as working with their stores/locations to improve the sales of the products. Has grown sales of hardware and L&G products into major stores like Home Depot, Walmart, Walgreen's as well as second tier stores. He has been the owner/partner for my company for some 22 years with my wife and have worked with many rep groups in promoting products as partners. They focus on promoting products that are consistent sellers from the manufacturer to the retail store and consistently moving through to the end customers/buyers.
They established consistent relationships with many of the same customers in the different industries and maintaining an honest and open relationship with both the buyers and the manufacturers to help every party to consistently succeed. They have success in the many different customers bases that exist and are constantly aware of the changes and new ideas/products for their success.
DPG Sales Representative
Sale Representative's 26 years in retail started with 22 years as a Big Box merchant, Now on the other side of the negotiation table, he has helped dozens of companies, both large and small, find their path to success at retail. His main areas of expertise include Sales of Mobile Accessories, Small Appliances, IoT, Tech Toys, Consumables, Drones, Rideables, and more.
DPG Sales Representative
Sales Representative has 25 years of retail experience, including 15 years as a manufacturer's sales representative for multi-million dollar accounts like Audiovox, iHome and Sirius Satellite Radio. His main areas of expertise are sales team operations, high-level contract negotiations and building comprehensive product assortment and marketing programs.